KY NSF EPSCoR is proud to partner with KY FIRST® Robotics (For Inspiration and Recognition of Science and Technology Robotics) to help fund and support instructional curriculum for their First Tech Challenge (FTC) program, for grades 7-12. KY FIRST Robotics, led by Executive Director Kelli Gowan, and Assistant Director Heather Smith, is a "progression of robotics competitions for kids, beginning with the youngest innovators and going through high school… FIRST® encourages it participants to think outside the box."
A primary goal of KY FIRST® Robotics is to help reduce and eliminate barriers for students in STEM related programs. This program will help introduce students to additive manufacturing and sensors and how they work specifically within the FIRST® program.
"When we started the FTC program, we noticed that many of the teachers starting the program didn't have access to programming or robotics, especially using 3D printing and sensors, says Smith. "With these videos, we're trying to break down these concepts into simpler, more manageable steps."
The virtual workshops will instruct students in several areas. First, students will be introduced to three levels of 3D printers at three different price points. The Prusa Mk3s, the Ender 3d, and the Qidi Tech. The workshops will include information on how the printers are built, how to diagnose and make repairs, how to use the printers, programs available to use for design and how to choose the right type of filament. The second series of workshops will focus on the various types of sensors used in FIRST® robotics and how to choose each one for the various competitive tasks. Students will also learn about how to incorporate these sensors into design and programming. After learning how to use the printers and sensors, the students may then apply their 3D printed features and sensing technologies to an 18x18x18 robot for the competition.
"What is unique about FIRST® Robotics is that is not a kit program," states Gowan. "There's a control system you use, but kids can build the robot however they'd like. That's where the 3d printing and additive manufacturing comes in."
"We feel very strongly that the additive and subtractive manufacturing aspects of the KY NSF EPSCoR Program align with our goals of workforce development readiness for our students. To be able to remove some of the barriers and make 3D printing and sensors more available for them while building their robots is a game changer for our program. These virtual workshops give them a confidence boost going forward. We appreciate the support from KY NSF EPSCoR and look forward to further partnerships in the future."
This past February, the FTC Challenge was held at the University of Kentucky in the Gatton Student Center. It had approximately 300 participants and 24 teams involved in building robots. A survey was conducted near the end of the program to see how many teams utilized 3D features. While that number was low, the data will serve as control data for next year, after the curriculum is released. Next year's competition will take place at UK again, scheduled for February 16th-17th. Two winners will move on to the World Championship event.
Videos are now live! We've posted the first one below, and you can view them all here. They will also be available on various Kentucky FIRST® Robotics social channels and linked on the KY FIRST website. https://www.kyfirstrobotics.org/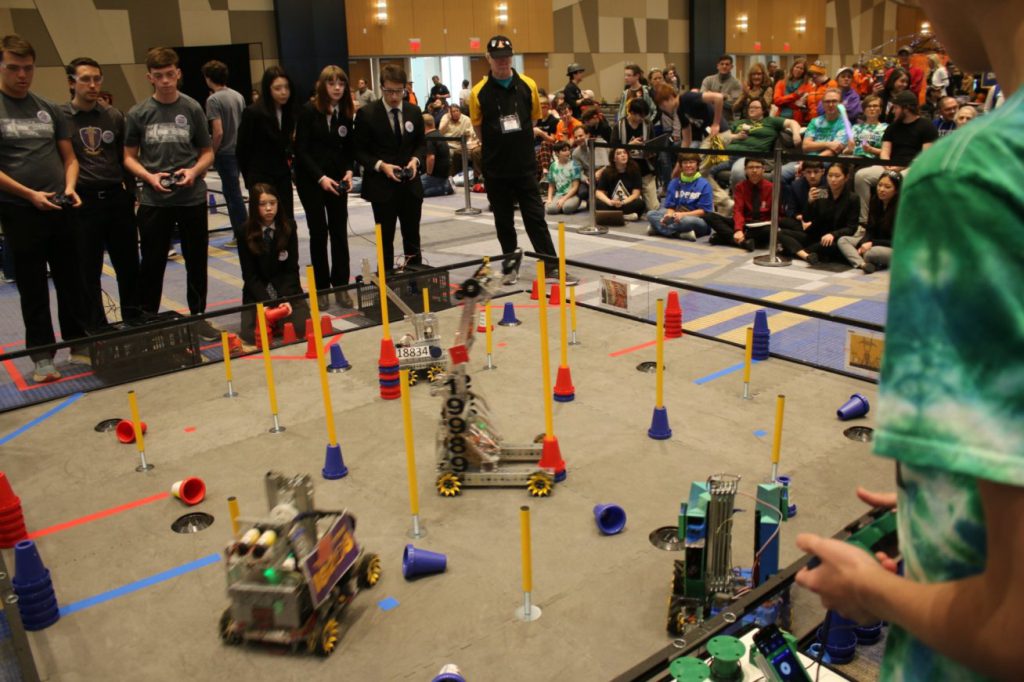 A priority with Kentucky FIRST® Robotics is to help students "see themselves" within the STEM Community, despite age, race, gender, or sexual orientation. Instead, this program wants to help the students see themselves as FIRST® Robotics students.
"We feel very strongly that the additive and subtractive manufacturing aspects of the KY NSF EPSCoR Program align with our goals of workforce development readiness for our students. To be able to remove some of the barriers and make 3D printing and sensors more available for them while building their robots is a game changer for our program. These virtual workshops give them a confidence boost going forward. We appreciate the support from KY NSF EPSCoR and look forward to further partnerships in the future."