Kentucky's Experimental Program to Stimulate Competitive Research (KY EPSCoR) is a federal-state partnership with five federal agencies having EPSCoR or EPSCoR-like (i.e. NIH IDeA Program) research stimulation programs. These federal programs were created to help states that receive a relatively low amount of federal research funds build their science, engineering and technology capabilities.
KY EPSCoR, which interfaces with the federal programs, focuses on: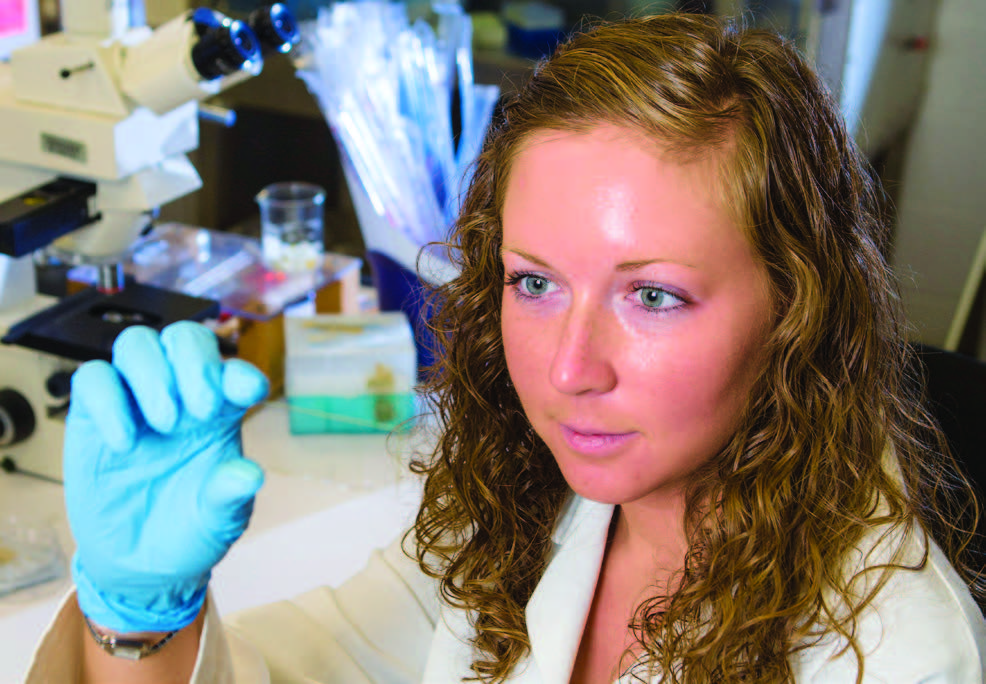 Enhancing Kentucky's ability to successfully compete for and
perform academic research,
Promoting and nurturing within the Commonwealth a culture of
innovation and economic creativity, and
Supporting increased educational attainment and workforce
development in the Science, Technology, Engineering and Math
(STEM) disciplines.
THE BOTTOM LINE:
KY EPSCOR MAKES A DIFFERENCE.

Exceeded cumulative funding received by KY EPSCoR since its inception
Companies advanced or formed from EPSCoR generated knowledge
Research centers, institutes, and major initiatives in Kentucky
Federal Agencies with EPSCoR/IDeA Programs (LinKS TO WEBSITES)
KENTUCKY COUNTERPARTS (linkS to websites)
KY EPSCoR COMMITTEE MEMBERS
EXECUTIVE CHAIR
Cathleen Webb, Western Kentucky University > Bio
UNIVERSITY ADMINISTRATORS 
John Balk, University of Kentucky 
Lisa Cassis, University of Kentucky 
Emmanuel Collins, University of Louisville > Bio
Claire Fuller, Murray State University 
Kevin Gardner, University of Louisville > Bio
Samantha Langley, Northern Kentucky University
SENIOR FACULTY RESEARCHERS
Nathan De Lee, Northern Kentucky University 
Dan Ionel, University of Kentucky 
Alex Lai, Kentucky State University > Bio
Jen O'Keefe, Morehead State University > Bio
Kevin Miller, Murray State University 
Tom Otieno, Eastern Kentucky University 
Kevin Walsh, University of Louisville > Bio
PUBLIC/PRIVATE REPRESENTATIVES 
Fred Allen, Estron Chemical 
Mason Dyer, Association of Independent Kentucky Colleges & Universities 
Glenn Edelen, Funai Lexington Technology Corporation > Bio
Brian Eggleston, Toyota
Angelique Johnson, MEMStim, LLC > Bio
Kevin Mazzella, GE Appliances, A Haier Company
Kayla Meisner, Kentucky Commercialization Ventures
Bob Schena, Rajant Corporation
RII Track 4: Understanding Defect Chemistry in Sodium Chalcogenide Superionic Conductors by Advanced Neutron Technology
Award Number:2033397; Principal Investigator: Hui Wang; Co-Principal Investigator; Organization: University of Louisville Research Foundation Inc; NSF Organization: OIA Start Date:12/15/2020; Award Amount: $252,491.00; Relevance: 48.0;
RII Track-4: Liquid Xenon Time Projection Chamber R&D on the Large Xenon Test Stand at LLNL
Award Number:2034659; Principal Investigator: Ryan MacLellan; Co-Principal Investigator; Organization: University of Kentucky Research Foundation; NSF Organization: OIA Start Date:01/01/2020; Award Amount: $131,507.00; Relevance: 48.0;
RII Track-1: Kentucky Advanced Manufacturing Partnership for Enhanced Robotics and Structures
Award Number:1849213; Principal Investigator: Rodney Andrews; Co-Principal Investigator:John Anthony, Czarena Crofcheck, Dan Popa, Seth DeBolt; Organization: University Amount: $12,133,649.00; Relevance: 48.0;of Kentucky Research Foundation; NSF Organization: OIA Start Date: 07/01/2019; Award
RII Track-4: Elucidating controls of sediment phosphorus delivery to tile-drains
Award Number:2032701; Principal Investigator: William Ford; Co-Principal Investigator:; Organization: University of Kentucky Foundation; NSF Organization: OIA Start Date:01/01/2021; A ward Amount: $226,757.00; Relevance: 48.0;
RII Track-4: Elucidating Enzyme-Ionic Liquid Interactions to Enable Effective Lignin Valorization
Award Number:1929122; Principal Investigator: Jian Shi; Co-Principal Investigator:; Organization: University of Kentucky Research Foundation; NSF Organization: OIA Start Date:12/01/2019; Award Amount: $207,562.00; Relevance:48.0;
RII Track-2 FEC: Data-Enabled Discovery and Design to Transform Liquid-Based Energy Storage (D3TaLES)
Award Number:2019574; Principal Investigator: Chad Risko; Co-Principal Investigator: Sara Mason, Scott Shaw, Baskar Ganapathysubramanian, Susan Odom; Organization: University of Kentucky Research Foundation; NSF Organization: OIA Start Date:09/01/2020; Award Amount: $1,989,220.00; Relevance: 48.0;
RII Track-4: Applying Transient Reflectance Spectroscopy to Decipher the Impact of Energetics and Electronic Coupling on Interfacial Recombination in Hybrid Halide Perovskites
Award Number:1929131; Principal Investigator: Kenneth Graham; Co-Principal Investigator; Organization: University of Kentucky Research Foundation; NSF Organization: OIA Start Date:02/15/2020; Award Amount: $179,150.00; Relevance: 48.0;
RII Track-2 FEC: A Multiscale, Multiphysics Modeling Framework for Genome-to Phenome Mapping via Intermediate Phenotypes
Award Number:1826715; Principal Investigator: Seth DeBolt; Co-Principal Investigator: Daniel Robertson, Armando McDonald, Christopher McMahan, Rajandeep Sekhon; Organization: University of Kentucky Research Foundation; NSF Organization: OIA Start Date:08/15/2018; Award Amount: $5,999,995.00; Relevance: 48.0;
RII Track 4: Development of Rigorous Techniques to Detect Polar Pesticides at Low Concentrations
Award Number:2032938; Principal Investigator: Shakira Hobbs; Co-Principal Investigator; Organization: University of Kentucky Research Foundation; NSF Organization: OIA Start Date:01/01/2021; Award Amount: $258,545.00; Relevance: 48.0;
RII Track-2 FEC: Sensing and Educating the Nexus to Sustain Ecosystems (SENSE). A Kentucky-West Virginia Partnership
Award Number:1632888; Principal Investigator: David White; Co-Principal Investigators: Susan Hendricks, James Fox, Bill Ford, Mindy Armstead; Organization: Murray State University; NSF Organization: OIA Start Date:09/01/2016. Award Amount: $3,837,645.00; Relevance: 48.0;
https://www.nsf.gov/awardsearch/showAward?AWD_ID=1632888